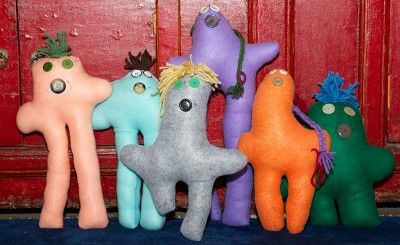 We know we are just dolls that are artwork, but we have more in life than that. We were created by an artist who wanted to show others who we really are. Each of us is unique, yet we are part of a whole family. There are many of us; other daughters, sons, same-sex couples, cancer survivors and wounded warrior dolls. Each is a different size and shape. We are made out of felt fabric, the artist's grandmother's buttons, yarn and stuffing. And because each of us is unique, handmade by the artist, we have an inidividual number on a heart to show we are one in a series in the collection.
When we started out, there were only 44 of us. As the days went by, the artist made more and more dolls for the family and collection. Now there are over 800 of us! We know we are very different from each other, but we want us all to be kind and understanding, be strong and never give up, just because we are different.
You may think we don't have much to say because we are just standing on a table very still. But we know we can make a difference for everyone; we want other people to let us into their lives.
We also have a collection of hearts that range from tiny, one-inch, to four-inches high. These hearts can be carried close to you to bring you joy and happiness, and they can even be strung on ribbons for necklaces. They are secret friends, perfect to put in pockets to travel with you though life.
We are excited to be sold to people who will take good care of us wherever we go. We hope we can change the world by making people happy. There's never a forever-bad moment in life, it just needs to be looked at differently. Believe in us to make your life brighter.