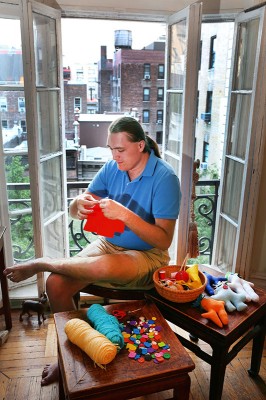 I've made lots of art throughout my life other than dolls. I make pottery and sculpture art projects. I've appeared as an extra on several TV shows and a movie: The Black List, Orange is the New Black, Bluebloods, and Ted 2. I also sing as a performer. I've been singing for 14 years and it has been amazing to bring joy to others to help them.
I was inspired to make the dolls when I was in a music college for kids with learning issues that are gifted in music. My collection suggests what it's like to be a family of people who are all different. I created them to show the world that we are all the same but also our own selves, and we should be accepted for who we are. When I'm done making each one I always imagine that they will come to life and talk to me about what their lives are like. As you stare at them you begin to focus on their different shapes, and especially their faces, they really do come alive. Although they're members of a big family, they are always looking for new homes. Please let them make you happy.
The 44 Daughters story continues. After the Daughters were first created and brought to life, the girls wanted their family to be ever-bigger. They had some friends that would fit right in to their idea of family. Now the family is bigger, with the Sons, Same-Sex Couples, Cancer Survivors and Wounded Warriors. We want to celebrate our freedom and let the whole world know that art can express many ways of understanding life. The dolls hope that they get to change people's lives.
I also have a collection of hearts with 44 Daughters faces, which I made to carry with you to bring you happiness and joy when you need a little lift.
I am based on New York City and conduct make-your-own-doll workshops for special events, personal appearances … and parties in the metro area! Just contact me.