Each of the dolls is different and part of a large family. They have individual personalities and appearances. Sam makes each one entirely by hand of felt, fiberfill, yarn and Sam's grandmother's buttons from her button box. They are charming, compelling, surprising and often slightly scary-looking daughters and sons that range in size from two inches to 36 inches. Sam also has hearts that range from one-inch to four inches.
We 44 Daughters are Outsider art, not toys. Please be careful with us around small children and pets; we are a little fragile, especially our faces.
To purchase your own doll or heart, specify the size on the Order Inquiry Form and the artist will send you a picture of a selection of dolls for you to choose from. :
Dolls (Prices are based primarily on size)
Teensie: 2" – 5"
Tiny: 6" – 9"
Small: 10" – 11"
Medium: 12" – 13"
Larger: 14" and larger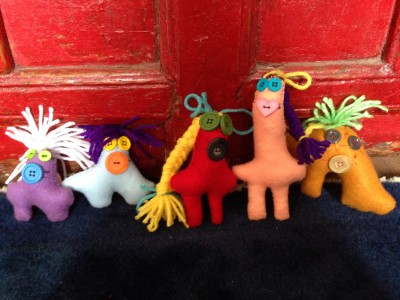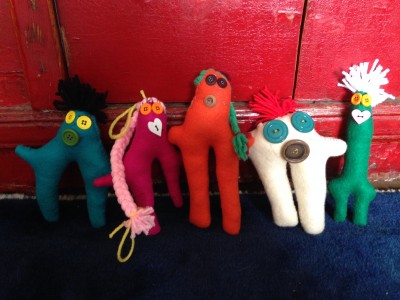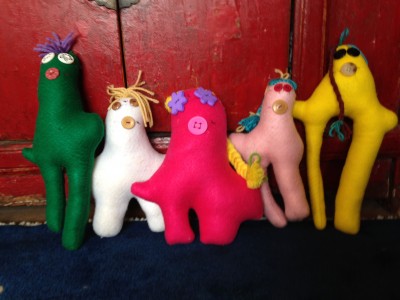 Medium: 12" – 13"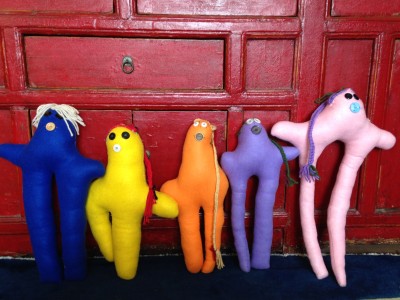 Hearts:
Tiny
Small
Medium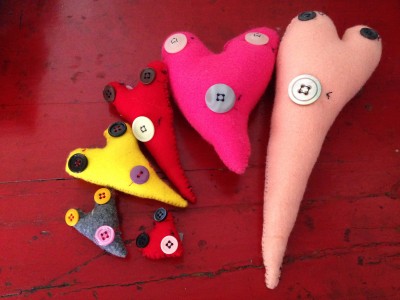 Shipping based on number and size of dolls.
To custom order your son, daughter or heart in a specific size and color, please use this form. Please be aware that every doll is made by hand, no two are the same, and Sam can create a doll for you based on color, size and hair color.
This gallery shows samples of Sam's work.  Many of these dolls are in the hands of collectors.  The dolls are shown to give an idea of the range of shapes and faces; they are not for sale, but for inspiration.